When Formula Student Electric was launched in 2010, we entered the race with our first electric bolide in the same year.
Since 2014, we have been exclusively building racing vehicles with electric drives.
2021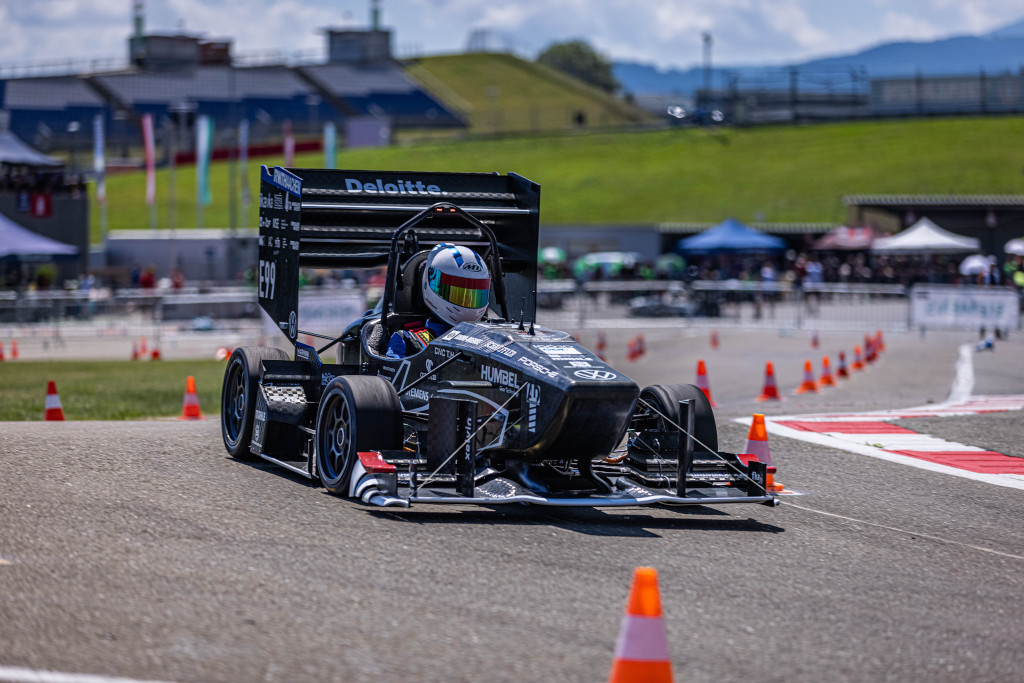 2021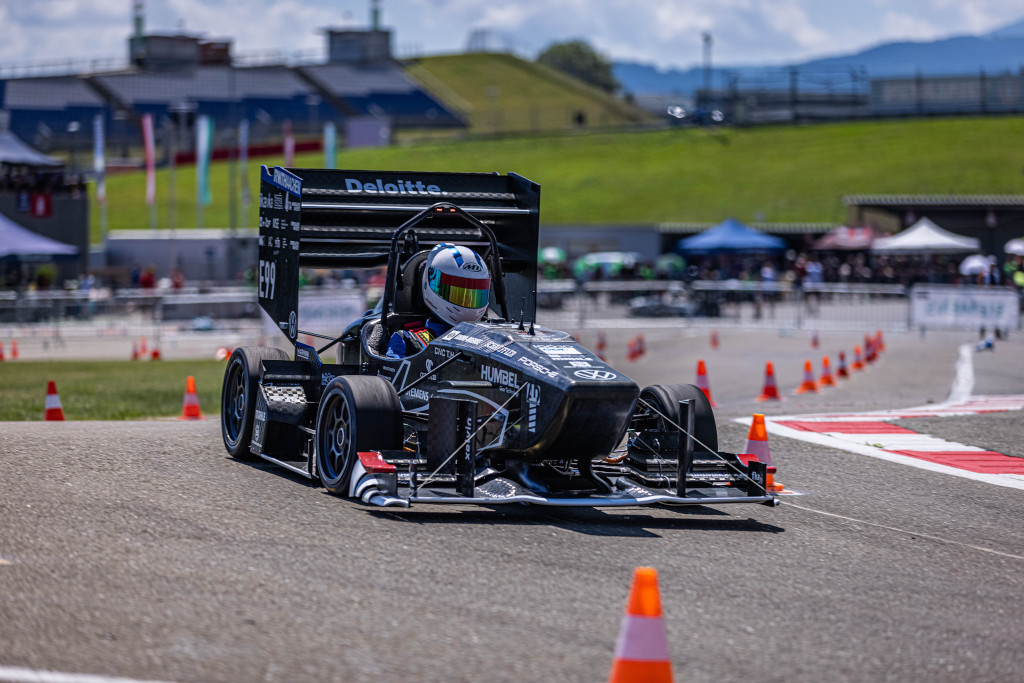 2019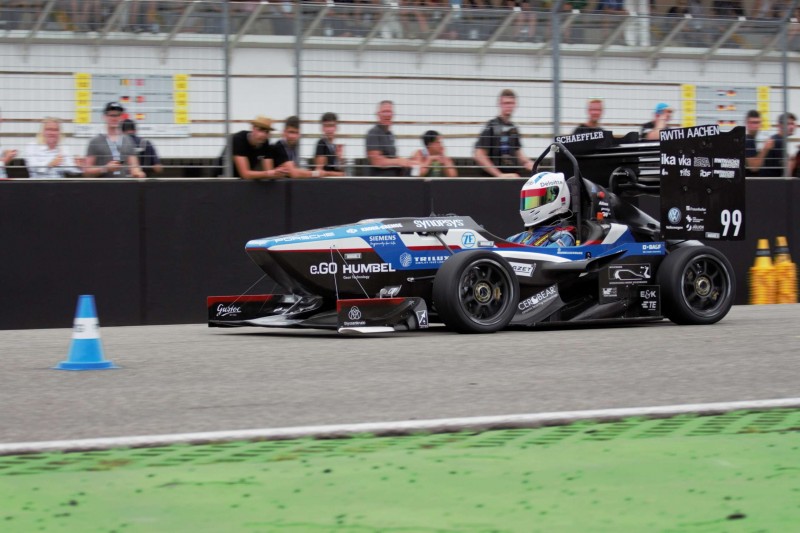 2018

2018

2015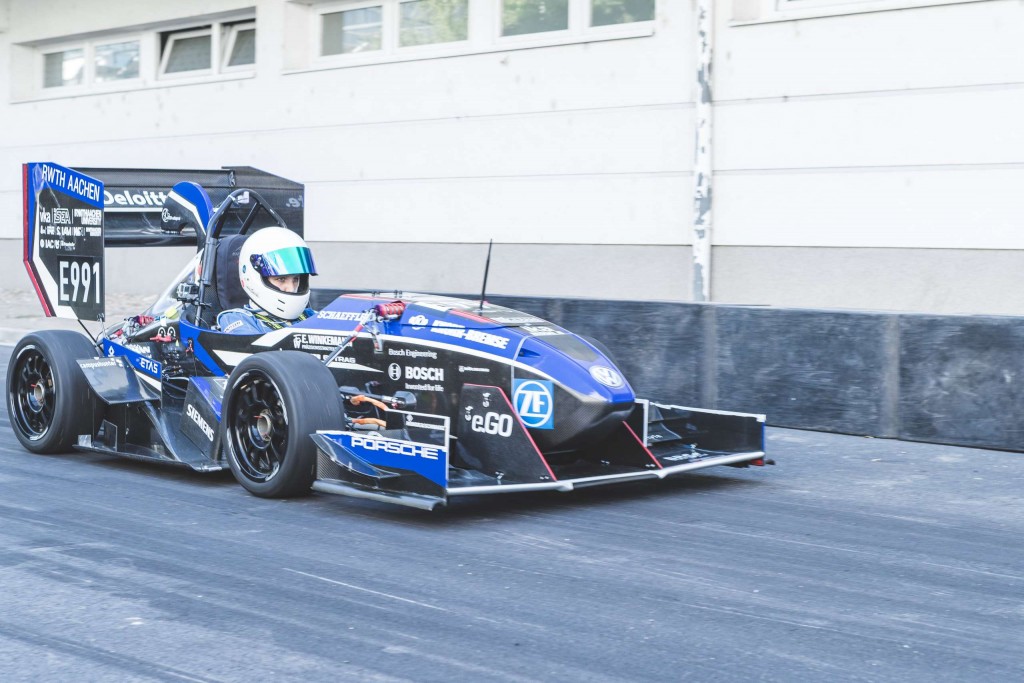 eace06
As the second all-wheel-drive vehicle, the eace06 was a further development on the concept of the eace05. However, no stone was left unturned in its development, so it features new chassis geometry, a new cooling system and a new aerodynamic concept.
Technical innovations
Kinematics
Thanks to a completely revised axle geometry, the eace06 glides much more elegantly over the asphalt than its predecessors
Cooling system
The eace06's revolutionary cooling concept is, to our knowledge, unique in Formula Student. The water cooling of the battery and the power electronics is significantly more efficient than the air cooling implemented in the eace05.
Aerodynamics
An underbody concept and further developed front and rear wing geometries have given the eace06 downforce values that are quite impressive.
Aerodynamics
Front and rear wings
Rear cooling
Underbody
Aerodynamic rear cover and diffuser
Electrical system
Driver Interface: 4″ paperwhite display
Engine control: self-developed
Data Logger: Vector GL1010
LV system: self-developed universal control electronics
Live Telemetry System
Self-developed Battery Management System
Frame
One-piece monocoque in CFRP sandwich construction, Rohacell and aluminum honeycomb core
Lamination process: Prepreg
Crash element: aluminum honeycomb
Chassis
Wheelbase: 1530mm
Track width: 1250mm (front axle); 1200mm (rear axle)
Sword stabilizers front and rear axle
Double triangular wishbones made of carbon fiber
Pushrod wheel suspension
4 external brake discs
Tires: Continental C17 205 / 470 R13
Self-developed CFRP aluminum rim
Drive train
Engine: 4 AMK wheel hub motors with torque vectoring
Max. speed: 20.000 rpm
Max. torque: 4 x 22 Nm
Max. power: 4 x 33 kW
Max. battery voltage: 600 V
Combined battery inverter liquid cooling
Gear ratio: 1:15,13
Gearbox: 4 x 1,5 stage planetary gearbox
2014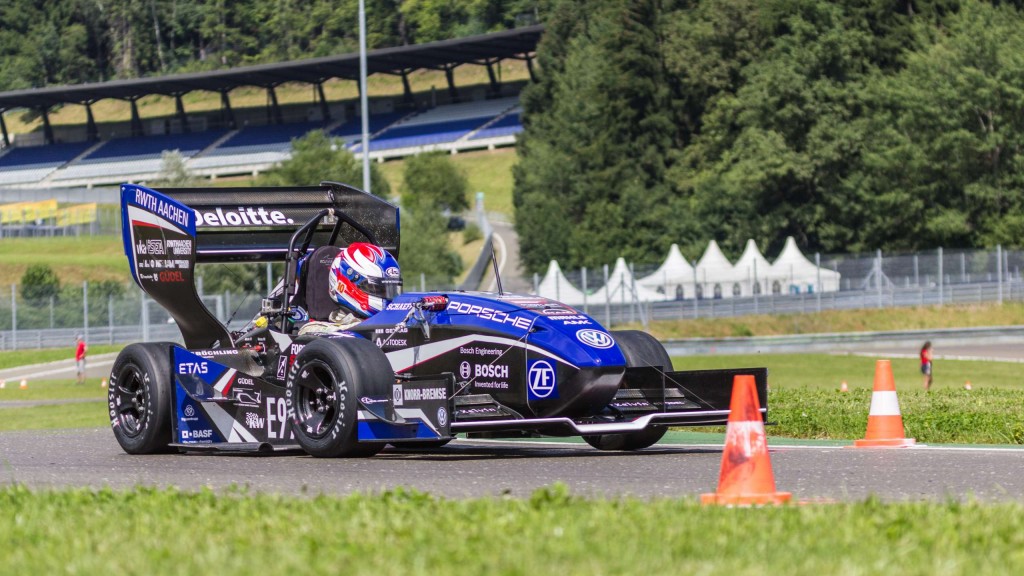 eace05
Technical innovations
4WD
For the first time we could realize an all-wheel drive via wheel hub motors
Chassis
The all-wheel drive gave us the opportunity to construct a closed monocoque
Rims
A full carbon rim with hollow spokes crowned the already technically sophisticated concept.
Aerodynamics
Front and rear wing
Side wing
Aerodynamically optimized side box with radiator air intake
Electrical system
Driver Interface: LED display
Engine control: ETAS 910ES
Data logger: Vector GL1010
separate LV system
Live Telemetry System
Self-developed Battery Management System
Frame
One-piece monocoque in CFRP sandwich construction, Rohacell and aluminum honeycomb core
Lamination process: Prepreg
Crash element: aluminum honeycomb
Chassis
Wheelbase: 1530mm
Track width: 1250mm (front axle); 1200mm (rear axle)
Sword stabilizers front and rear axle
Double triangular wishbones made of carbon fiber
Pushrod wheel suspension
4 external brake discs
Tires: Hoosier R25B 18.0×7.5-10
Self-developed CFRP rim with hollow spokes
Drivetrain
Motor: 4 AMK wheel hub motors with torque vectoring
Max. speed: 20,000 rpm
Max. torque: 4 x 22 Nm
Max. power: 4 x 33 kW
Nominal battery voltage: 600 V
Cooling system: water cooling
Combined battery inverter liquid cooling
Gear ratio: 1:14,152
Gearbox: 4 x 1,5 stage planetary gearbox
2014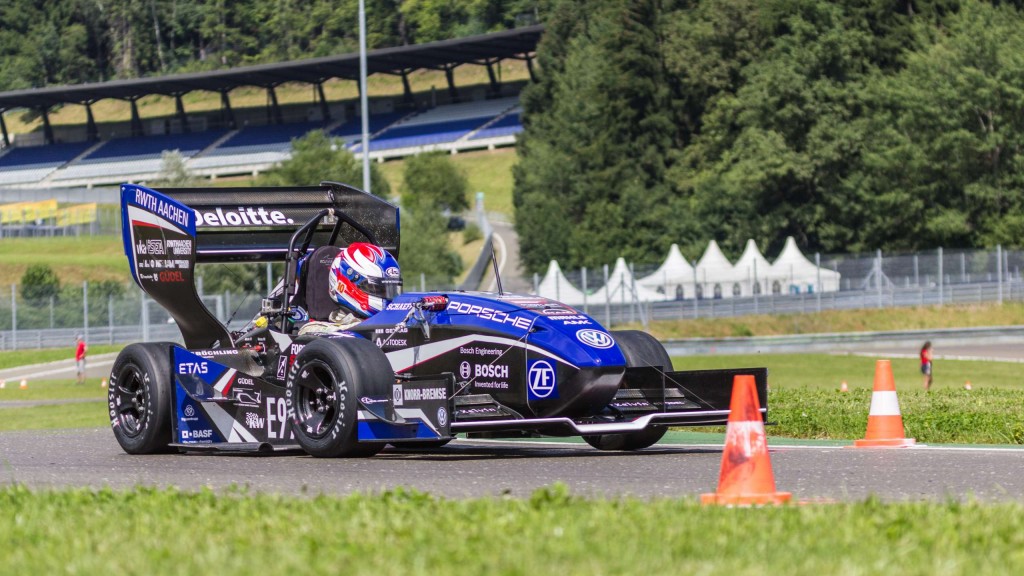 2013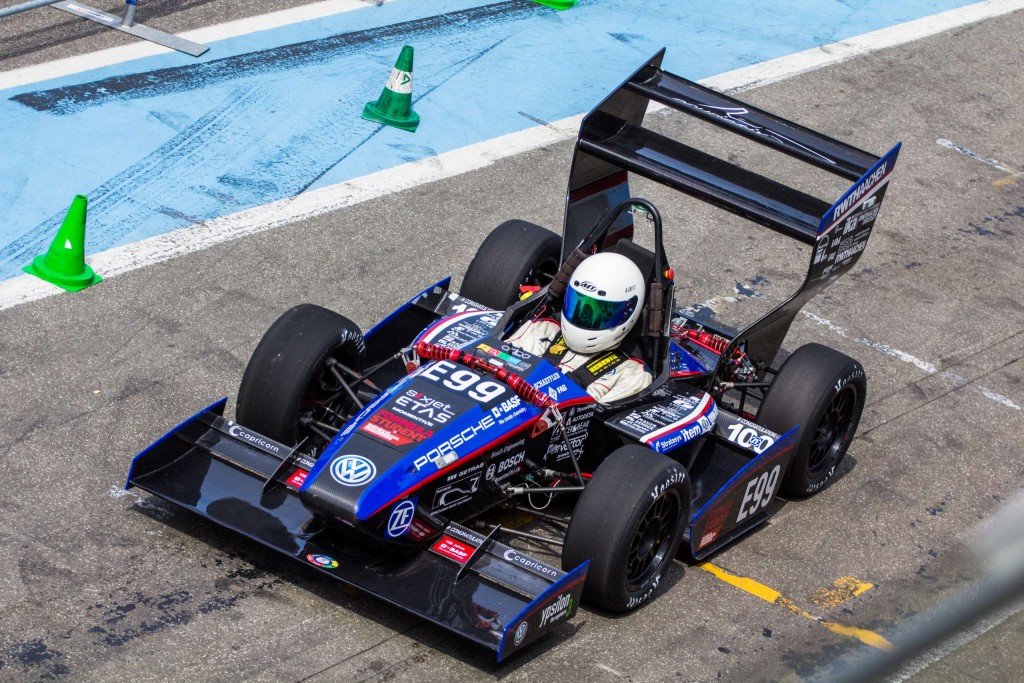 eace04
Technical innovations
Reliability
"To finish first, you have to finish first." - True to this motto, the eace04 was built as a further development of the previous model
Aerodynamics
The revision of the aerodynamics package has significantly improved the eace04 on the circuit
Battery
With an in-house developed battery management system and a carbon fiber container, the battery has become significantly more reliable and lighter
Aerodynamics
Front and rear wings
Rear cooling system
Underbody
Aerodynamic rear cover and diffuser
Electrical system
Display: LED display
Engine control: ETAS 910ES
Data logger: Vector GL1100
DC/DC converter to supply the LV section from the traction battery
Frame
One-piece monocoque in CFRP sandwich construction, Rohacell and aluminum honeycomb core
Lamination process: Prepreg
Crash element: aluminum honeycomb
Chassis
Wheelbase: 1530mm
Track width: 1250mm (front axle); 1200mm (rear axle)
U-stabilizer on rear axle
Double triangular wishbones made of carbon fiber
Pushrod wheel suspension
4 external brake discs
Tires: Hoosier R25B 20.5×7-13
Aluminum CFRP hybrid rim
Drivetrain
Engine: 2x Compact Dynamics MG40-400, rear wheel drive with torque vectoring
Speed: 10000 rpm
Max. torque: 2x 90 Nm
Max. power: 2x 42 kW
Nominal battery voltage: 355 V
Cooling system: water cooling
Battery system: LiPo batteries EPS-6250HC
2012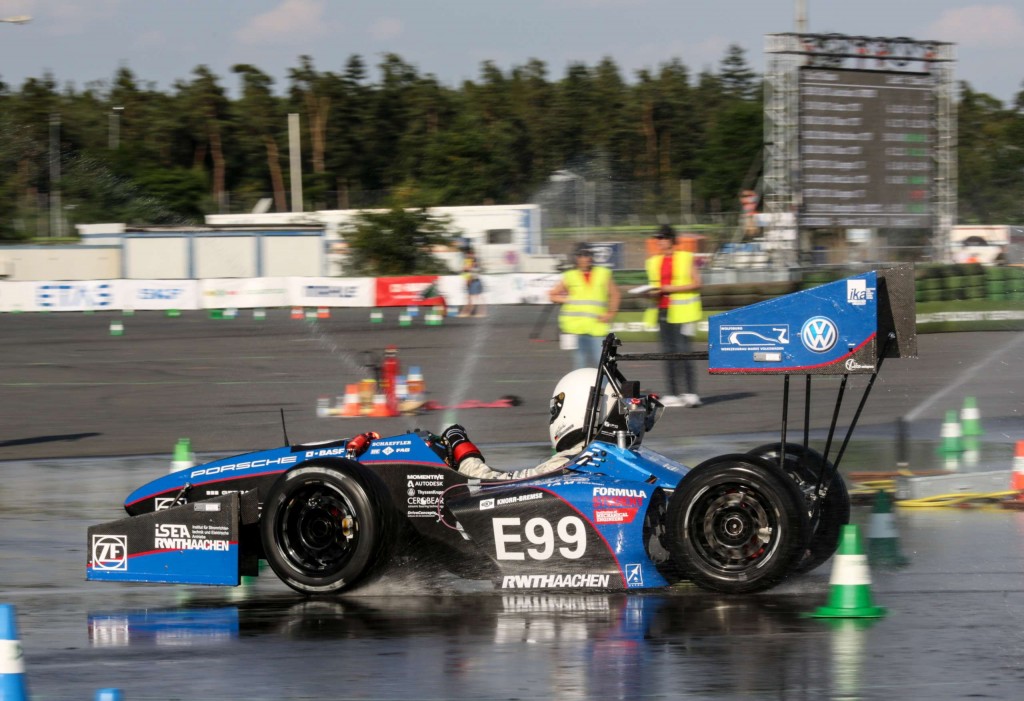 eace03
Technical innovations
Monocoque
The eace03 had a two-part monocoque to make it easier to remove the battery from the vehicle
Aerodynamics
For the first time a vehicle was equipped with an aerodynamics package
Drive train
The rear-wheel drive was realized via two internal electric motors
Aerodynamics
Front and rear wings
Sidepods
Electrical system
Display: LED display
Engine control: self-developed
Data logger: integrated in self-developed engine control unit
Fuse box: self developed "Fusebox
Frame
Two-piece monocoque with CFRP sandwich construction
Lamination process: Prepreg
Crash element: aluminum honeycomb
Chassis
Wheelbase: 1530mm
Track width: 1250 VA; 1200 HA
Double triangular wishbones made of carbon fiber
Pushrod wheel suspension
4 external brake discs
Tires: Hoosier R25B 20.5×7-13
Drivetrain
Engine: 2x Compact Dynamics Dynax500e, rear wheel drive with torque vectoring
Speed: 10000 rpm
Max. torque: 90 Nm
Max. power: 2x 42 kW
Nominal battery voltage: 400 V
Cooling system: water cooling
Battery system: LiPo battery
2012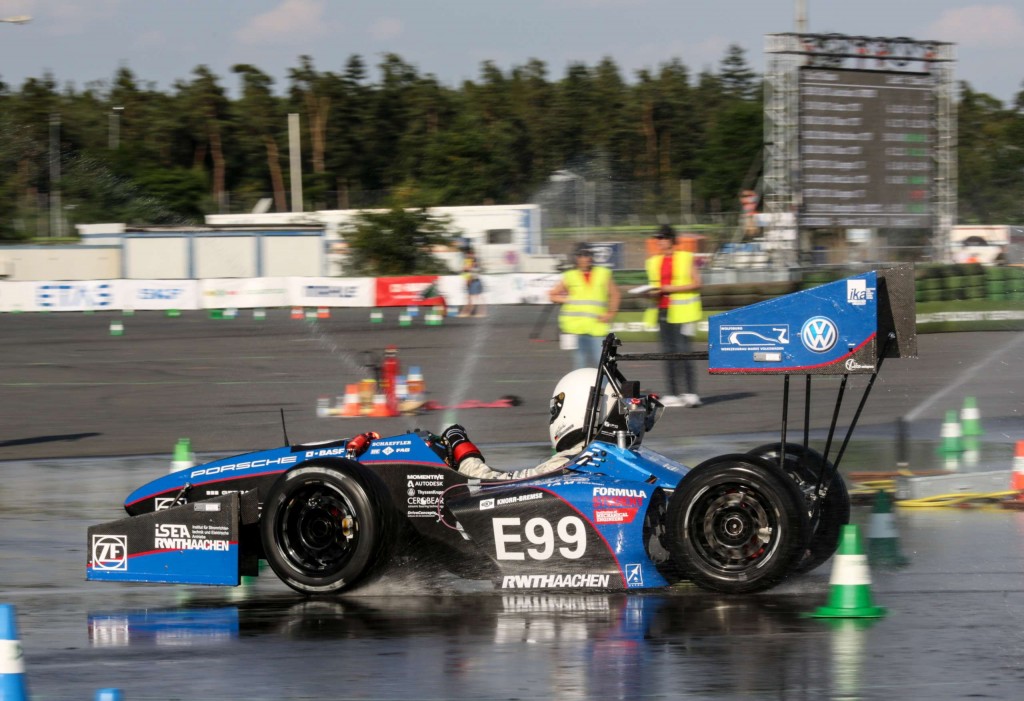 2011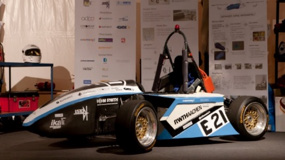 eace02
Technical details
Year of manufacture: 2011
Engine: 2x AMK DP7-60-10_POW, 125HP
Gearbox: bevel gear
Wheelbase: 1650mm
Weight: 332kg
2010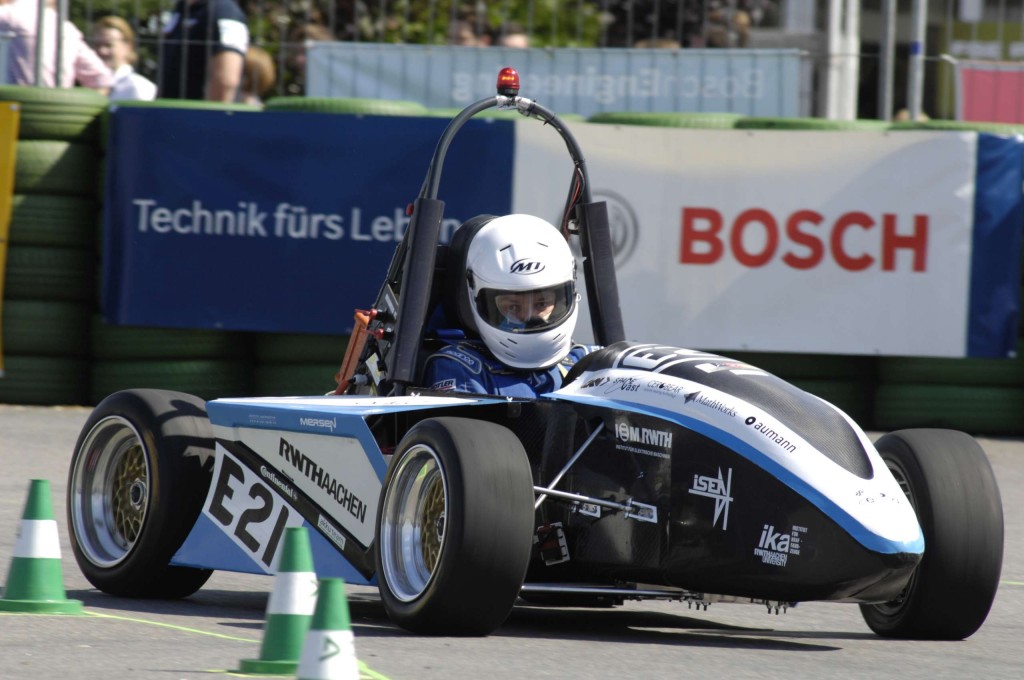 eace01
Technical details
Year of manufacture: 2010
Engine: HPG AC20-05-1, 48HP
Power transmission by chain
Wheelbase: 1525mm
Weight: 310kg
Highlights
Self-developed driver interface
Multi-link axle with mono-damper system on front end
Hybrid construction with self-laminated monocoque (wet lamination)
2010