The first steps of our long Formula Student history were made with combustion vehicles.
The first vehicle started in 2002.
2013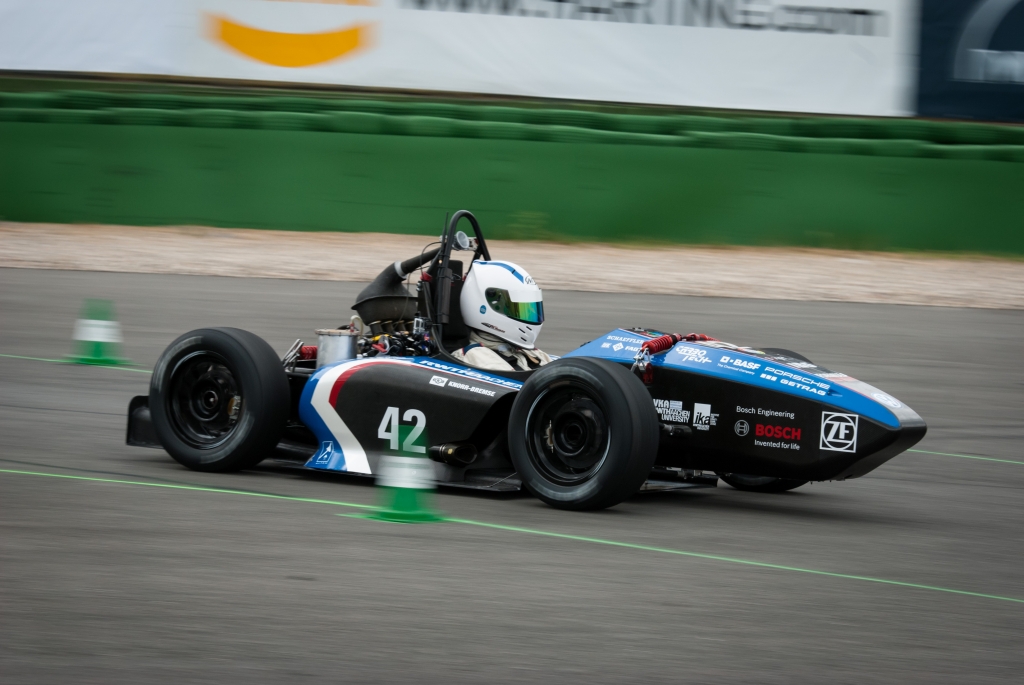 eac10
Technical innovations
Monocoque
Thanks to the prepreg monocoque, the eac10 is significantly lighter than the eac09.
Underbody
For the first time an underbody was used on the eac10
Engine
Famous for its sound, we were able to further increase the power of the engine.
Electrics
Display: LED speed indicator & gear indicator
Engine control: MS 5.0 (Bosch)
Data logger: C50 (Bosch)
self developed "Fusebox", which switches channels and monitors currents
Frame
two-part frame construction; monocoque and rearframe made of CFRP
Weight: 22.8 kg including roll bar
Fibers: Torayca M40 J
Sandwich material: aluminum honeycomb, Rohacell 51 WF
Lamination process: Prepreg
Crash element: aluminum honeycomb
Chassis
Wheelbase: 1600mm
Track width: 1250 VA; 1200 HA
Carbon fiber double triangle wishbone
Pushrod wheel suspension
4 external brake discs
Tires: Hoosier R25B 20.5×7-13
Drivetrain
Engine: Kawasaki ZX600R-9F
Displacement: 599.4cc
Bore / stroke / cylinder 67mm / 42,5mm / 4
Throttle element: throttle slide
Fuel type: RON 98
Max. Power (@rpm): 66 kW @12000
Max. Torque (@rpm): 60Nm @10500
Engine control: MS 5.0 (Bosch)
Oil system: Dry sump
Differential: Drexler Limited Slip
Drive type: Chain
2013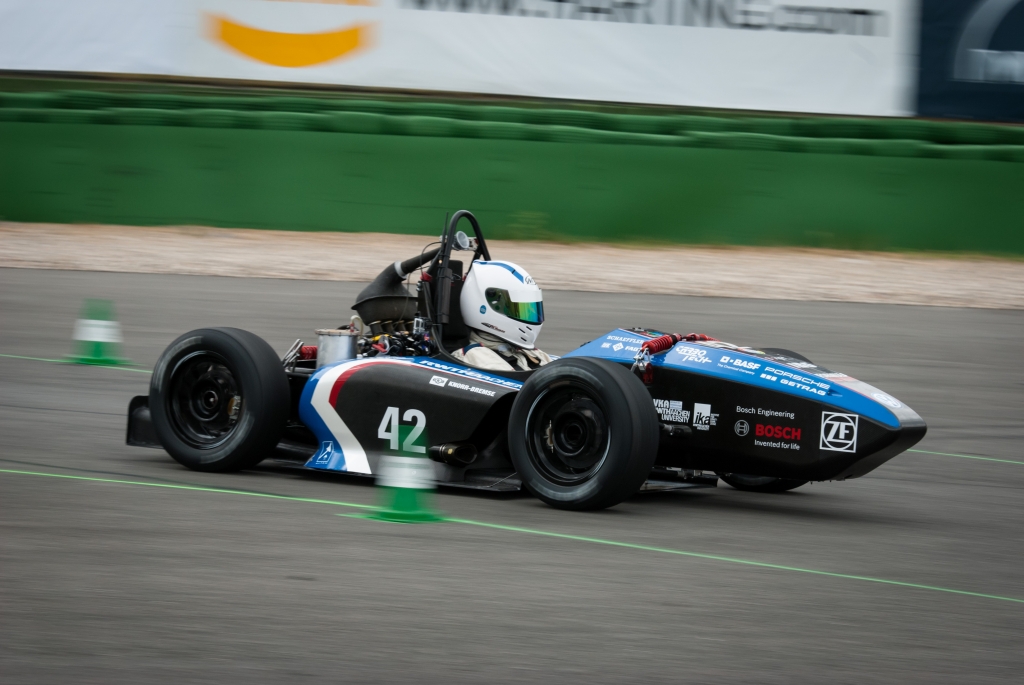 2012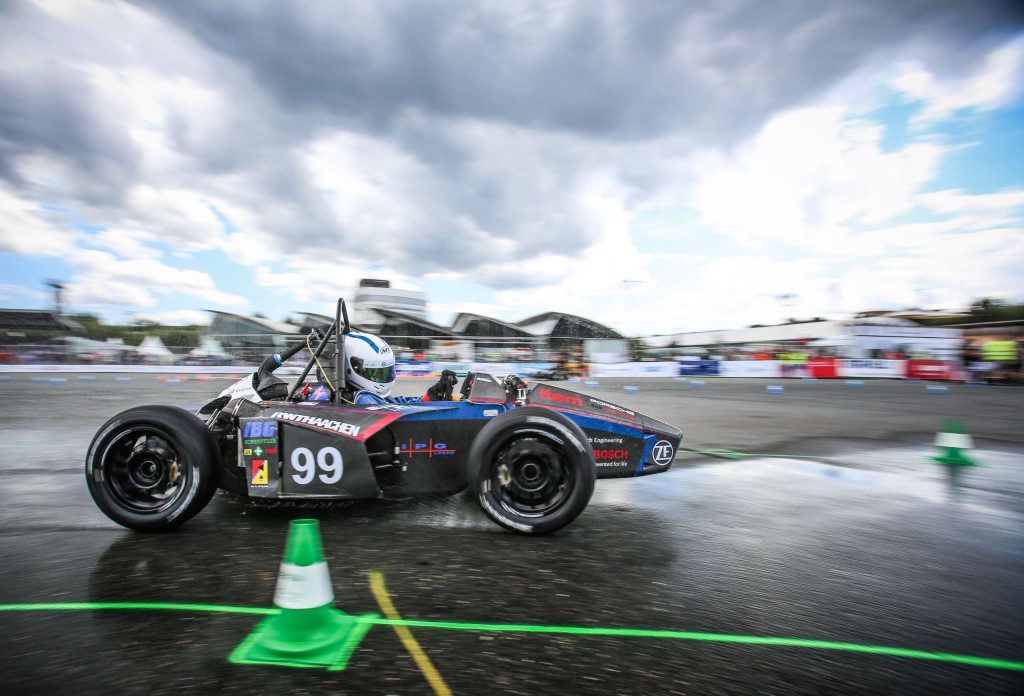 eac09
Electrics
Display: DDU7 (Bosch)
Engine control: MS 5.0 (Bosch)
Fusebox: self-developed "Fusebox", which switches channels and monitors currents
Microcontroller: self-developed microcontroller boxes to evaluate different sensors
Frame
Weight monocoque: 20.7 kg
fibers: UMS & IMS
Sandwich material: Rohacell 71 IGF
Lamination process: Wet laminate
Crash element: Aluminum honeycomb
Chassis
Wheelbase: 1600 mm
track width: 1250 VA; 1200 HA
Carbon fiber double triangular wishbones
Pushrod suspension on front and rear axle
Bilstein dampers with H&R springs
Hollow cast aluminum wheel carriers
Hoosier R25B 20.5×7.0-13 tires
ISR 4-piston calipers front and rear
Steering with bevel gear reversing and progressive rack and pinion
Drivetrain
Engine: Kawasaki ZX600R-9F
Bore/Stroke/Cylinder/Capacity: 67mm/42.5mm/4/599.4cc
Throttle element: throttle valve
Fuel type: RON 98
Max. Power: 86 HP @ 11500
Max. Torque: 56 Nm @ 10500
Fuel injection: Self-developed injection system
Engine control: Bosch MS 5.0
Oil system: Self-developed dry sump
2011

eac08
Technical data
Year of manufacture: 2011
Engine: 4-cylinder engine (Kawasaki ZX600R-9F), 600ccm, 82HP
Transmission: 5-speed manual
Wheelbase: 1600mm
Weight: 221kg
2011

2010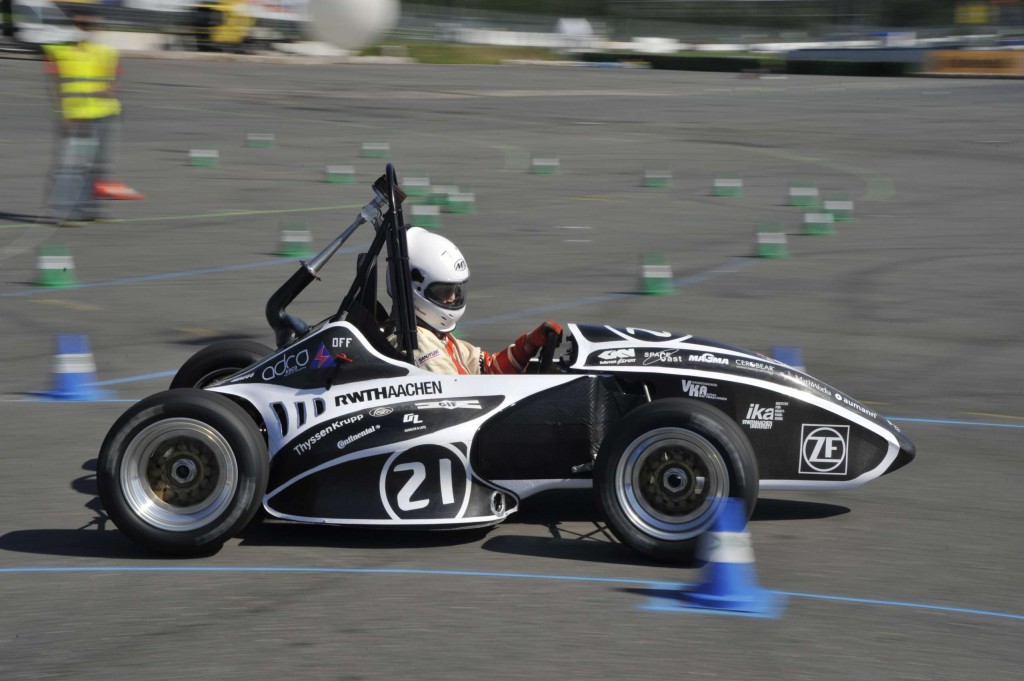 eac07
Technical data
Year of manufacture: 2010
Engine: 4-cylinder engine (Suzuki GSX-R), 600ccm, 95HP
Transmission: 4-speed manual
Wheelbase: 1598mm
Weight: 250kg
Highlights
Self-developed driver interface
Multi-link axle with mono-damper system on front end
Hybrid construction with self-laminated monocoque (wet lamination)
Hydraulically actuated gearshift
Self-developed camshafts
Microcontroller-controlled, power electronic fuse box with CAN connection
2009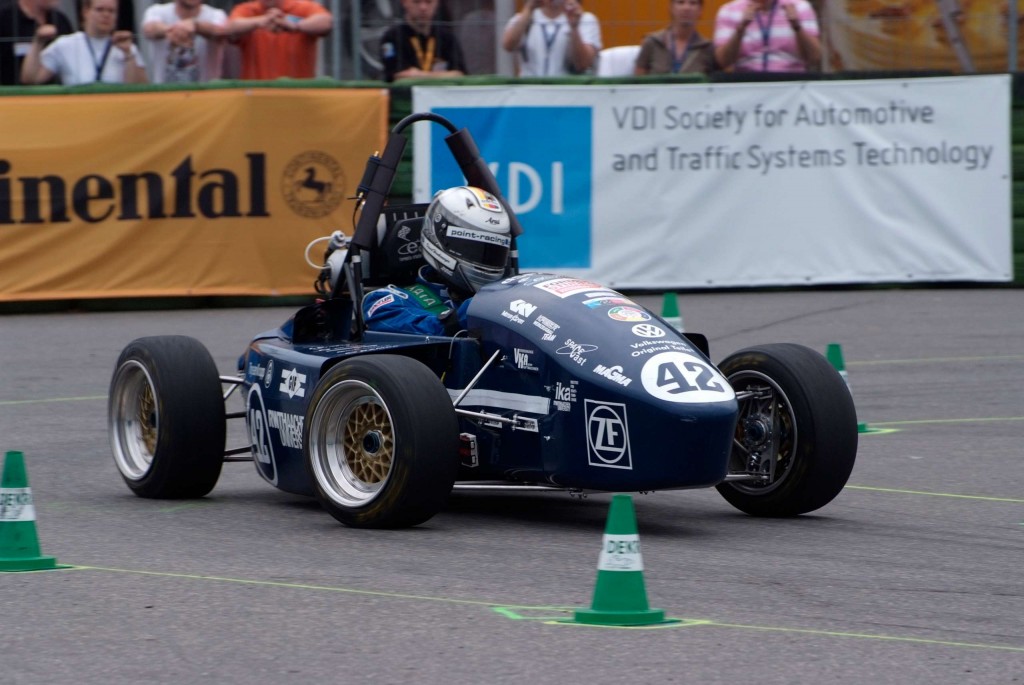 eac06
Technical data
Year of manufacture: 2009
Engine: 4-cylinder engine (Suzuki GSX-R), 600ccm, 80HP
Transmission: 4-speed manual
Wheelbase: 1638mm
Weight: 251kg
Highlights
Self-developed driver interface
Charge change simulation
Hydraulically actuated gearshift
Multi-link front axle
Mono-damper system on the front axle
2009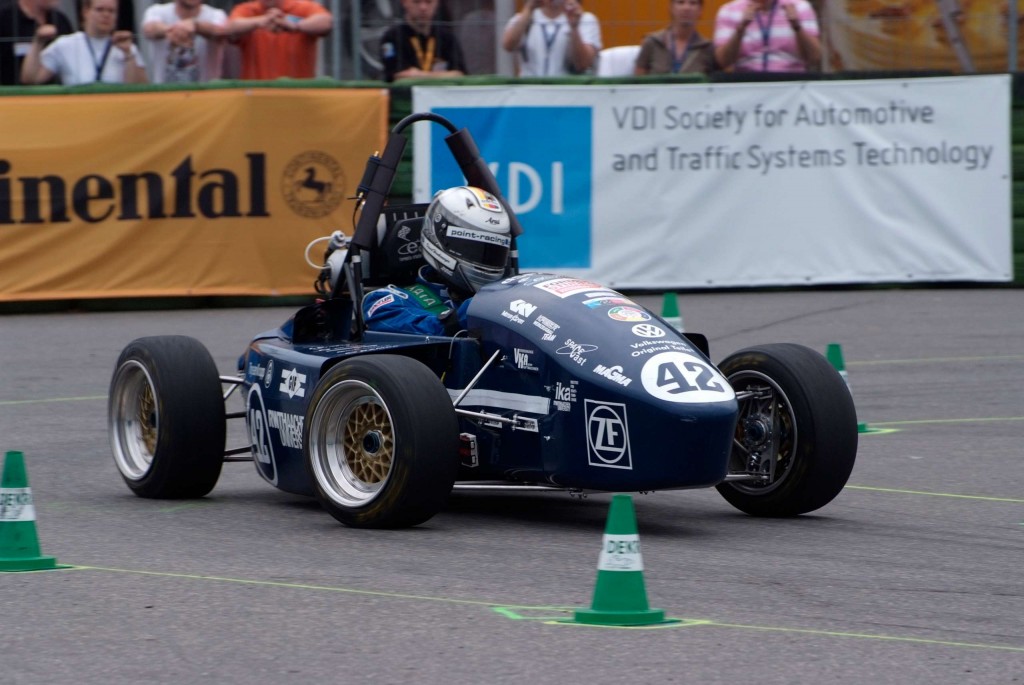 2008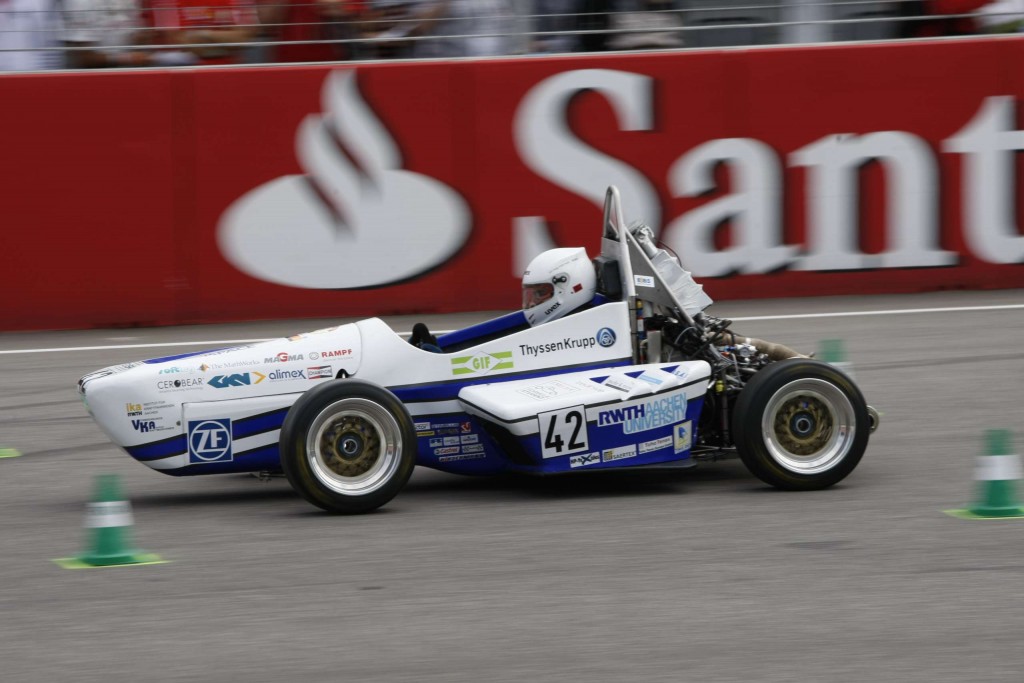 eac05
Technical data
Year of manufacture: 2008
Engine: 4-cylinder engine (Suzuki GSX-R), 600ccm, 73HP
Transmission: 6-speed manual
Wheelbase: 1760mm
Weight: 278kg
Highlights
Electronically actuated gearshift
Multi-link front axle
Monoshock system on front axle
Self-laminated CFRP monocoque
Stainless steel rear frame
2007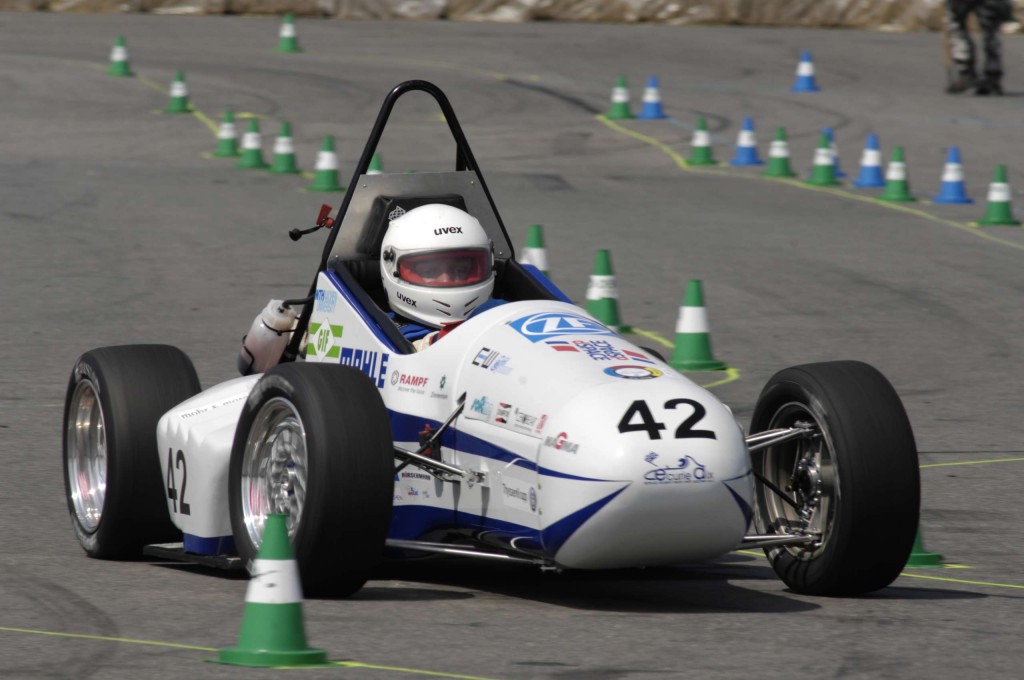 eac04
Technical data
Year of manufacture: 2007
Engine: 3-cylinder engine (Mahle v1K), 609ccm, 86HP
Gearbox: CVT as bevel-ring gearbox
Wheelbase: 1650mm
Weight: 321kg
Highlights
Engine specially developed for the racing series (Mahle International GmbH)
Power increase by compressor
Stepless prototype transmission (Gesellschaft für Industrieforschung mbH)
Multi-link axle on front end
Monoshock system on front axle
Self-laminated CFRP monocque
2007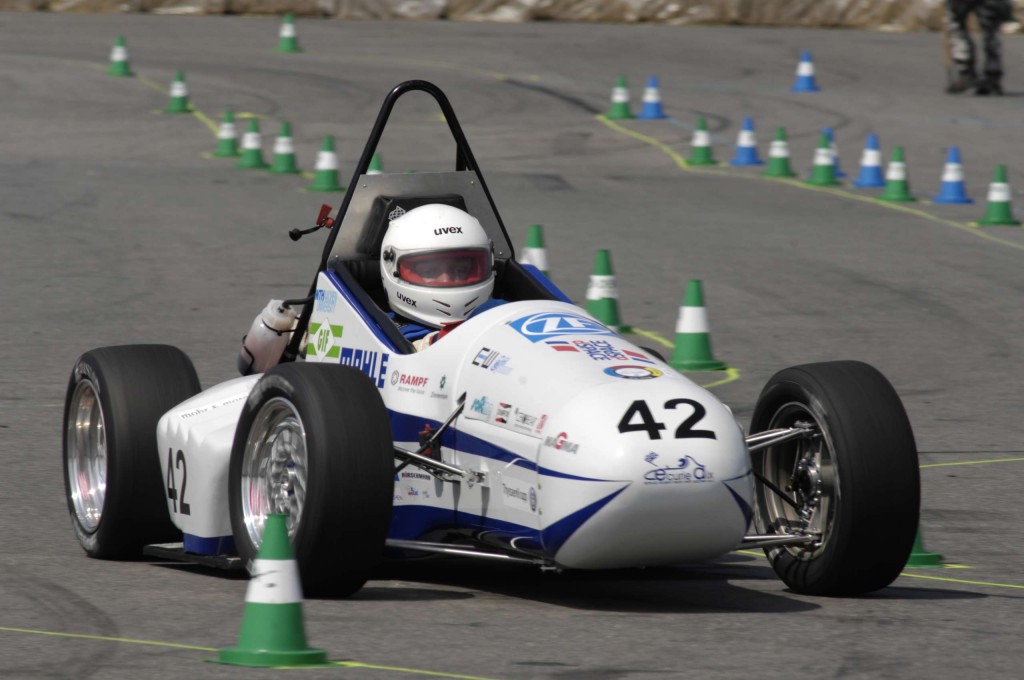 2005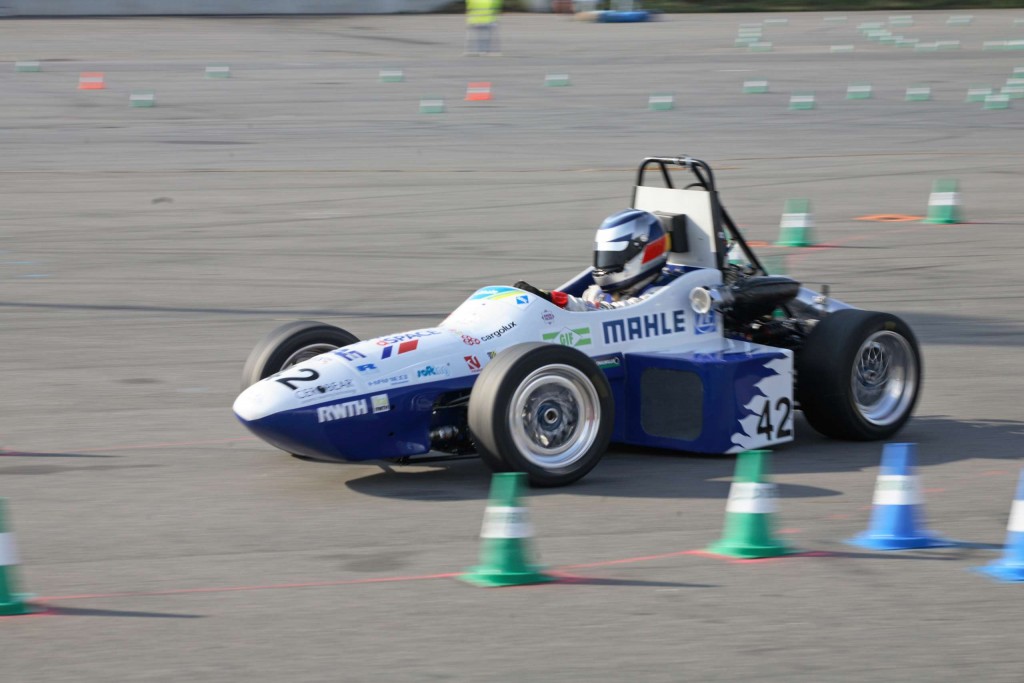 eac03
Technical data
Year of manufacture: 2005
Engine: 3-cylinder engine (Mahle v1), 609ccm, 81HP
Gearbox: CVT as bevel-ring gearbox
Wheelbase: 1758mm
Weight: 352kg

Highlights
Engine specially developed for racing series (Mahle International GmbH)
Continuously variable prototype transmission (Gesellschaft für Industrieforschung mbH)
Self-laminated CFRP monocoque
2003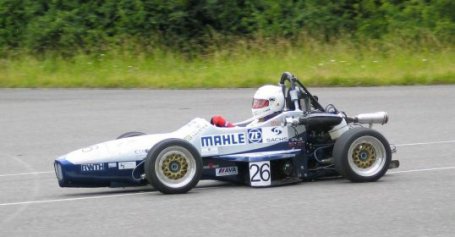 eac02
Technical data
Year of manufacture: 2003
Engine: 3-cylinder engine (Mahle v0), 609ccm, 81HP
Gearbox: CVT as bevel-ring gearbox
Weight: 368kg

Highlights
Engine specially developed for racing series (Mahle International GmbH)
Continuously variable prototype transmission (Gesellschaft für Industrieforschung mbH)
Self-laminated CFRP monocoque
Partial CFRP rear frame
2003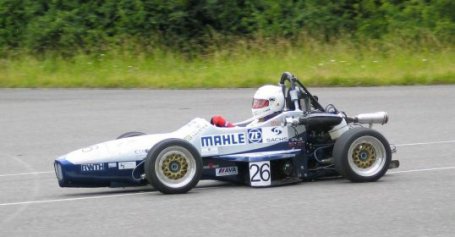 2000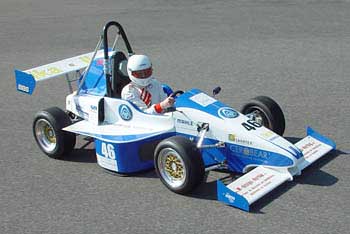 eac01
Technical data
Year of manufacture: 2000
Engine: 4-cylinder engine (Suzuki GSX-R), 600ccm, 70 HP
Transmission: 6-speed manual
Wheelbase: 1850mm
Weight: 454kg
Highlights
Turbocharged
Automatic shift actuator
First crash test of a Formula Student car